Feb 23rd National Day of Resistance in defense of our 2A Rights! / Feb 28th The NYS Rifle-Pistol Association Lobby Day and Rally Albany / and Sign these NY Petitions!
February 22, 2013
ALL STATES, ALL COUNTIES, EVERYWHERE…
PRO-2A Rally Set For Sat., Chaut County, Frewsburg, NY!
Facebook Tell a friend / Share on Twitter
Saturday, February 23, 2013 Noon-4:00 PM
Frewsburg Blue Building, Station 2, Hazzard ST, Frewsburg, NY(map)
A gun appreciation rally will be held from noon to 4 p.m. Saturday in the Frewsburg Blue Building, Station 2, Hazzard Street, Frewsburg. Guest speakers will include Andrew Goodell, New York state assemblyman; Jacqueline Chiarot, for U.S. Congressman Tom Reed; New York State Sen. Cathy Young's representative; and Stephen Aldstadt of S.C.O.P.E. Inc. Tables will feature Rod and Gun clubs, Shooting groups, Veterans groups, Trapping organizations and Political action groups.
NEXT UP, FEB 28th~ Albany~ The New York State Rifle & Pistol Association Lobby Day and Rally (SEE BELOW)
SIGN SEN. BONACIC'S PETITION TO OPPOSE RESTRICTIVE NEW GUN CONTROL MEASURES
SIGN SEN. MARCHIONE'S PETITION TO OPPOSE RESTRICTIVE NEW GUN CONTROL MEASURES
REPEAL CUOMO GUN LAWS / Sign Assemblyman DiPietro's Petition
Legal action against Cuomo gun law
NYSRPA, in co-operation with the NRA, are having the Cuomo law reviewed by a highly qualified legal team.  We ask that no other 3rd party legal action be taken without prior consultation.  We realize that this law impacts a large number of people, but a proper legal review will take some time.  Involved in the lawsuit will be two of the  nations best 2nd Amendment attorneys.  This is a very  important proceeding and must be handled properly with the best lawyers.  We will not win without support from gun owners.  You can help either by joining/renewing your membership or making a online donation.
Please do not call or e-mail the office or directors asking for more information.  Any announcements on this issue will be published here on our website.  Thank you for your understanding.
New Class-Action Lawsuit — WE THE PEOPLE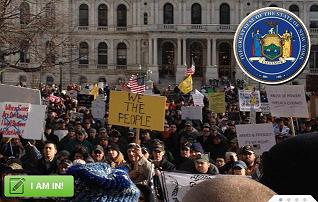 We the People of New York Inc. invites us to join the lawsuit to strike down the NY SAFE Act, and to Petition the Legislature for violation of Article XIII of our NYS Constitution, which says ALL of us are members of the State Militia.
Simply click here:  http://wethepeopleofny.org/, then click on I AM IN!
Be sure and read how Switzerland has the lowest gun-related crime rate in the civilized world with zero terrorism, and how ammunition is actually supplied to the public by the Swiss government!  (Just click on the white buttoned tab on the lower right of the main photo) "Our work in defense of the State and Federal Constitutions has always been rooted in the Rights of the People and the obligations of the Government under the last ten words of the First Amendment. Known as the accountability clause, those words guarantee the Right of the People to PEACEFULLY hold the Government accountable to the rest of the Constitution."   – Bob Schulz, WTP
BREAKING: Sorry Andy, No Truce – We won't be Bribed !!!
Cuomo Proposes Lowering Hunting, Fishing Fees, But Gun Enthusiasts Still Don't Like Him NYSRPA February 21, 2013 Cuomo Proposes Lowering Hunting, Fishing Fees, But Gun Enthusiasts Still Don't Like Him – Gov. Andrew Cuomo proposed streamlining the process of acquiring state hunting and fishing licenses and reducing their cost by 25 percent in a budgetary amendment on Wednesday. He called the current state licensing system "overly complex, burdensome and bizarre" and vow […]
Cuomo Seeks Truce With Sportsmen By Proposing Lower License Fees Mayor Graham February 21, 2013 It's virtually unheard of for government to reduce a fee, so one wonders the reason behind Governor Cuomo's across the board proposed cuts in hunting and fishing license fees. Mr. Cuomo made the proposal as part of amendments to his proposed budget. Since what goes up never goes down, I assume the license fees are an effort to reach out to […]
20 Counties say NO to NY SAFE Act!
To view the larger map from AR15 and for links to all the passed and pending resolutions, click here.
Some of the latest news:
Counties Condemning NY SAFE Act February 20, 2013 – More counties will soon vote on resolutions and motions regarding the NY SAFE Act.
Niagara Co. Leg wants SAFE Act repealed February 19, 2013 The Niagara County Legislature took up the issue of the NY SAFE Act Tuesday night, and all 14 county lawmakers voted for a resolution calling on Albany to repeal the new gun law.
Niagara Legislature poised to urge repeal of state gun law February  18, 2013 LOCKPORT – The Niagara County Legislature may vote Tuesday to urge the State Legislature to repeal the expanded gun-control law that Gov. Andrew M. Cuomo signed Jan. 15.The Republican-controlled Legislature had several anti-gun-control resolutions on its agenda that night, but they were all sent to committee, as the State Legislature's hurried passage of the […]
Niagara County Legislature Takes Up Gun Resolutions February 15, 2013 The Niagara County Legislature has three resolutions on this Tuesday's agenda concerning the NY-SAFE Act. They are in opposition to the renewal of pistol permits every five years, the public access to the names and address of residents with NYS pistol permits and the third one is to oppose the law in its entirety. The complete agenda can be found here ( […]
Greene County lawmakers advance anti-SAFE resolution (with video, resolutions)
Published: Wednesday, February 20, 2013 By ARIEL ZANGLA Daily Freeman staff – Opposes the SAFE act as well as objects to the latest proposal in the Assembly regarding liability insurance calling it "nothing more than a back-door attempt to prohibit legal gun ownership in this state" !
Ulster Legislature votes to back repealing gun laws
By Michael Novinson Times Herald-Record – 02/20/13 – Two hours of comments as 1,000 attend!
Oswego County passes resolution calling for repeal of NY SAFE Act
By Ken Sturtz l ksturtz@syracuse.com The Post-Standard on February 14, 2013
Montgomery vote on SAFE resolution February 15, 2013 – The Montgomery Co. Board of Supervisors are planning to vote on a resolution opposing the NY SAFE ACT at their monthly meeting, February 26, 2013 at the Board of Supervisor chambers located in the DMV building at the county complex in Fonda. Meeting time is 6:00pm.
Wyoming Co. Lawmakers Rap SAFE Act – Pass resolution calling on NY State to repeal controversial gun laws
Suffolk County Legislature: To introduce a resolution calling for the repeal of the NY SAFE Act
Riga joins communities opposed to new gun laws – 02/20/13 – The town of Riga has joined a small but growing chorus of municipalities vocalizing opposition to the state's new gun control law. Last week, the Riga Town Board voted 4 to 0 to adopt a resolution condemning the New York Secure Ammunition and Firearms Enforcement (SAFE) Act of 2013. "The Riga Town Board does hereby oppose the enactment of any legislation that would infringe upon the right of the people to keep and bear arms and consider such laws to be unnecessary and beyond lawful legislative authority granted to our state representatives," the resolution reads.
Oneota: Over 200 Attend Citizen Voices Meeting to Speak Out Against the NY SAFE Act – 02/20/13 – Over 200 hundred people attended the Tuesday evening Citizen Voices meeting at the Elks Club in Oneonta. They were there to voice their concerns with the NY SAFE Act gun law. There were numerous speakers including Tom King, president of the New York State Rifle and Pistol Association, Assemblymen Cliff Crouch and state senator James Seward.
If You Read Just One Civilian Disarmanent-Related Article Today, This is the One to Read
The Saratoga [NY] County Deputy Sheriff's Police Benevolent Association's letter to the New York pols who passed the so-called SAFE Act was sent January 24. It's a must-read missive for anyone who cherishes their right to keep and bear arms. Or anyone who believes that the government of the United States should be by the people for the people, according to limits established by the Constitution.
Sheriff Tim Howard of Erie County and the PBA Lay it on the Line
Erie County Legislature calls for repeal of SAFE Act February 21, 2013 -By Denise Jewell Gee Erie County legislators have added their voices to a chorus of people across the state calling for the new state gun law to be repealed. The County Legislature voted, 7 to 4, on Thursday to approve a resolution calling on the state to repeal and revise the New York State SAFE Act of 2013 "in a manner that is respectful of the Second Amen […]
Western New Yorkers Part of Big Gun  Rally in Albany February 12, 2013 – Hundreds turnout at the State Capitol to protest the SAFE Act.
Gun meeting draws anger in Clarence
CLARENCE, N.Y. (WIVB) – In Clarence, tempers flared as gun-owners met with state officials to talk about the New York SAFE Act. Continue reading and watch the video here at WIVB.
Chautauqua County Legislature Committee Discusses NY SAFE Act – Legislators Look To Pass Motion To Repeal Act – February 21, 2013 The Post-Journal – MAYVILLE – A controversial New York state law is causing some conversation within the County Legislature. The Public Safety Committee discussed the NY SAFE Act during its Wednesday meeting. Legislators Fred Croscut, R-Sherman, and Robert Stewart, R-Ellington, submitted to the legislature a motion calling for the repeal of the act…
Chautauqua County Legislators pushing for repeal of SAFE Act – 2/15/2013 1:13:19 PM Two members of the Chautauqua County Legislature would like to see legislators back a motion that would urge state lawmakers to repeal tougher gun laws that were recently enacted in New York State. Legislators Fred Croscut and Robert Stewart have sponsored the measure that will be taken up by the County Legislature's public safety committee next week. Croscut recently attended a meeting of the New York Association of Counties. He says a number of groups are pushing to have the law repealed. [Croscut- A number of groups want it repealed Download Audio File] Croscut says he is not opposed to all of the provisions included in the SAFE Act, but there are too many flaws. The Sherman Republican hopes to get the support of enough county legislators to pass the motion. (Read the Resolution here)
Cattaraugus County resolution opposing NY SAFE bill
NY SAFE Resolutions – Documenting County and Town resolutions on the NY SAFE act
Feb 20, 2013 ALBANY — More than two dozen counties and local governments have passed resolutions in opposition to New York's gun-control law. Some call the law unconstitutional, some want a full repeal, and others raise concern about unfunded mandates that the law may produce. While the resolutions are ceremonial, local leaders said they want the message to get across to state officials that people are unhappy with the law.
Local leaders, mainly Republicans, said they were responding to the concerns of residents. On Tuesday night, about 1,000 residents attended an Ulster County Legislature meeting as lawmakers adopted a resolution opposed to the gun law signed by Gov. Andrew Cuomo on Jan. 15. The Niagara County Legislature passed a similar resolution Tuesday.
"We hope it has influence," said Wayne Speenburgh, chairman of the Greene County Legislature, which was expected to vote on its resolution Wednesday night. "Since I've been a legislator, and I'm in my 10th year, I've probably never seen the constituents on any subject more outraged than over this law."
Monroe County Legislature chairman Jeff Adair said he's received calls and emails from residents and groups urging the county to take a stand against the law. He said one would likely be considered at the legislature's next meeting on March 12.
Last week, the Riga Town Board and Orleans County Legislature both adopted resolutions condemning the SAFE Act.
The third rally to oppose the law is planned for Thursday, Feb. 28, at the Capitol. Organizers said they are bringing busloads of thousands of gun-rights supporters to Albany for the event. Local leaders said the push for resolutions in opposition to the gun law hasn't come from one particular group. While some counties have consulted with one another about how to craft the resolutions, there isn't one specific template that they are all using — though many are similar.
The resolutions in Ulster and Wyoming counties run four to five pages and both say, "This legislation effectively turns countless New York State law-abiding gun owners into criminals." "This gun law was poorly drafted, it was poorly passed. It really does need a lot of fixes," said Ulster County Legislature chairwoman Terry Bernardo.
A Livingston County resolution was one page and states, "The law's definition of assault weapons is too broad, and prevents the possession of many weapons that are legitimately used for hunting, target shooting and self defense." Livingston County Administrator Ian Coyle said county officials were also concerned about the added local cost to enforce the law.
Rockland County passed a resolution Tuesday in opposition to the law, and Tioga County recently passed one.
Dutchess County said it, like Monroe, is considering a resolution. "It's important to so many people that we need to discuss it," said Robert Rolison, the Dutchess County Legislature chairman.
"It's got grass-roots. There's no overarching group pushing this," said Evan Hempel, a Town Board member in Clermont, Columbia County, who is keeping track of ALL the resolutions on a website, www.nysaferesolutions.com.
02/05/13 New York State Association of County Clerks Opposes portions of the NYSAFE ACT Click here to read the PDF
01/31/13 A Letter From The Special Forces Community Concerning The Second Amendment Click here to read the article
01/30/13 Cuomo's Approval Rating Plummets Click here to read the article
01/25/13 NYS Sheriff´s Association Response to NY SAFE Act Click here to read the article
2/19/2013  There's plenty of confusion about the process for current pistol permit holders who want to have their names and addresses removed from the public record under the state's new SAFE Act …read more
On the mental health aspects of the bills, also problematic: Advocates voice concern over gun law – WIVB February 13, 2013 – The NY SAFE Act requires mental health professionals to report the names of potentially dangerous patients to authorities. But some are concerned the new law threatens the rights of the mentally ill, who advocates argue could be stereotyped.
Hearing on state gun-control law brings variety of objections – Buffalo News – Objections at hearing cite aspect of breaching code on mental health: "This was very hastily prepared and not robustly considered legislation as it could have been from many dimensions," said Kenneth P. Houseknecht, executive director of the Erie County Mental Health Association. Mental health advocates expressed concern over the legislation's less publicized provisions, such as requiring doctors and counselors to report potentially violent clients to the state. That's a serious breach of doctor-patient confidentiality, they said.
Hooray!  6 gun companies refuse sales to NY govt agencies that restrict lawful gun ownership
Bravo to our neighbors: Pennsylvania Police Chief looks to build a reserve force to resist federal authorities
Impeach Andrew Cuomo
Patriot@impeachandrewcuomo.com
On January 15th, 2013, Governor Andrew Cuomo dealt a major blow to your second amendment rights. His new firearms bill will cost the state millions in new registration databases and enforcement, cost dealers thousands in absurd record keeping and make you a criminal for possessing the same firearms you owned legally on January 14th, 2013. All of these additional costs will burden the consumer and the tax payer. The new law will do nothing to curb gun violence or stop a mass murder. But those who voted for it and the Governor do not care; they don´t want you to own firearms PERIOD. Not only does this measure trample the very Constitution he swore to uphold, but it was rushed through in the middle of the night. The bill was not released to the public before it was voted on and Cuomo waived the mandatory three day cooling off period before forcing a vote. He is a treasonous tyrant who is out of control. Sign the petition to impeach this man and restore our once great State from the top down.
.
Sat., Feb 23rd – National Day of Resistance in defense of our 2A Rights!